Lacking Ideas or Direction for your Domain Name?
Perhaps the first thing I should state is that once you have at least purchased, hosted and demonstrated to yourself that your Domain Name is live and active with perhaps a WordPress theme installed a lack of options is rarely an issue.  The norm is that there are too many options and how do you select the best option or options?
You NEED a PLAN
Essentially and ideally you need a plan setting out what you want to do.  You will probably be aware and if not do some research (I will highlight various options below and on subsequent posts) that there are literally thousands of organisations which imply they can make you a lot of money in double quick time once you have a Web Site.  Take it from me that is simply "hype" and the number of people who have made substantial sums of money in a very limited time frame is a very small percentage of the total involved in this market (estimates state over 90% of Marketers do not make money on the Internet).
BEWARE of Clever Marketing!
I have come to the conclusion that some (please note some, NOT all) of those selling Internet Marketing Programs make their money from Marketing and Selling the Digital Product to customers, but perhaps have never made much money from the implementation or use of the  product they are selling.  It could be said they are selling the "idea or concept" not the actual experience of having used the product to make money from the practical application of the product.  I sometimes feel there are comparisons with Multi-Level Marketing (MLM).
MLM is a business model or marketing strategy in which the distributors' income includes their own sales, and a percentage of the sales group they recruit, which is commonly known as their 'down-line'. Customers can also sign up as a distributor to sell the company's product.  In practice what often happens is selling the product is secondary to recruiting distributors with the product often being overpriced and simply used as a "magnet" to build a network, hence also the name "Net Work Marketing" or "Pyramid Selling".   While some have made a lot of money in MLM and it is not illegal I now stay clear of it for "ethical reasons".
A FEW OPTIONS and IDEAS.
Internet Marketing

Internet marketing, or online marketing, refers to advertising and marketing efforts that use the Web and email to drive direct sales via electronic commerce, in addition to sales leads from websites or emails.
There are many Free and Paid for courses available which will take you into the mechanics of Internet Marketing.  At this stage a warning is required.  Unless you have a lot of money to go on a specialist course in perhaps a "niche market" it will take time to learn the mechanics of Internet Marketing and probably even more time to achieve a degree of success.  Don't give up your day job in the short term unless you happen to have no dependants and you are only responsible for the upkeep of yourself.  Marketers when selling courses etc, have a well worn script of rags to riches which is regularly trotted out.  In about fifty percent of Webinars (online sales promotions which tend to last at least 1 hour) you will quickly find a similar theme occurring again and again.   Treat all of these with scepticism.  After listening to a few you begin to say – "not again".
Affiliate Marketing
You will find the word "Affiliate" occurring again and again in respect of Internet Marketing. So here is a dictionary definition "a marketing arrangement by which an online retailer pays commission to an external website for traffic or sales generated from its referrals."  Here is a Link to a site that provides a lot of relevant information >>> Click Here <<<
Autoresponder
Almost certainly no matter what you do with your Domain (except selling it) you will want to "sign up" for an AutoResponder.  "An autoresponder is a computer program that automatically answers an e-mail sent to it".  What happens is that when someone "lands on" your Domain Name Web Site you have a "contact box" for them to enter their email address.  This address is then automatically transferred to an autoresponder where it is retained and held for present and future use.  The autoresponder can confirm they have signed up to your Web Site and is used to send them offers and reminders on a prearranged  time frame in the future.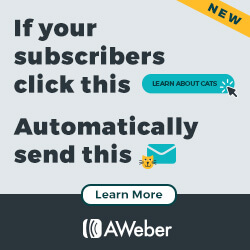 There are a great number of "autoresponders" in the marketplace but some are more comfortable with Internet Marketing than others.  As far as I am aware all autoresponders charge a monthly or annual fee, mostly based on likely usage with a minimum fee being payable.  My recommended autoresponder which is comfortable with Internet Marketing is "AWEBER"(Please note this is an Affiliate Link and if you join I would earn a commission).  I have used others but suddenly they have closed my account and refused to explain why.  Almost certainly it was because I was promoting Digital Offers as an Affiliate.  I have also enclosed a FREE Aweber PDF LINK describing the writing of Emails >>> Click Here <<<.
Squeeze/Landing Page Builder
In the event you decide to get involved in Internet Marketing you will need what is known as a "Squeeze Page Builder or Landing Page Builder".  This piece of Software is used to build pages which have offers of Digital products, Physical products or Services on them or have Sales Pages promoting products.  There are many products in the market with a wide range of prices.  Many of these software Landing Pages can be purchased as an "ADD ON" to WordPress (i.e. known as a Plug In).  These Plug Ins are loaded onto your hosted Domain Name Site which will already have WordPress installed.  The prices of these software's and their features vary enormously from monthly fees to outright purchase of a software package.  There is also a regular drip feed of new low cost new Page Builders suitable for Internet Marketing which come to market.
If you go down this route I suggest you do some research via Google or YouTube before deciding which software to purchase.  I am providing an Affiliate Link to "InstaBuilder" which is fine for most purposes and reasonably priced, however I suggest you use this link to help you research similar products prior to making any buy decision.
Where too Next?
The foregoing has planted a few ideas and highlighted pros and cons.  In my next post I will continue to outline possible direction's of travel in respect of a variety of options using your Hosted Domain Name.